How I Use Opti-Build To Help My SFI PSAs Build Their Teams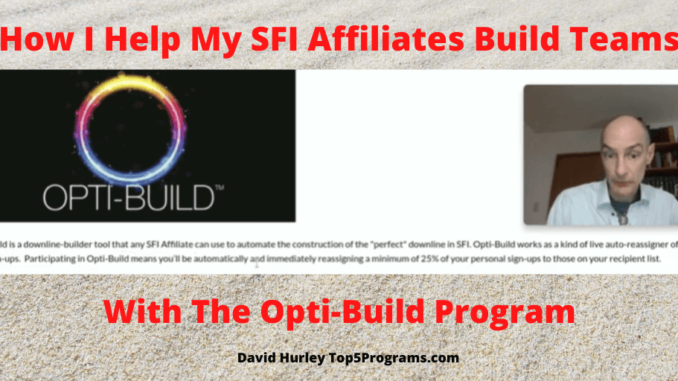 In this video I explain how I help my active SFI team members by referring new affiliates into their downlines for them with SFI's Opti-Build Program.
I've been with SFI since 2007 and consistently making a profit month after month with SFI for many years now – which is of course why I have stayed with SFI!
The Opti-Build Program
I've seen many improvements over the years, and one of the best business-building tools they've developed for their affiliates is the Opti-Build Program. Opti-Build was launched in 2017 and an improved version was released in 2019. I wrote about those improvements on this blog and two years later I am still using Opti-Build to help selected SFI team members to refer affiliates.
Today I created a new video to explain how I am using Opti-Build to help my current affiliates to grow their business with SFI. I can also help YOU grow your business with SFI by adding YOU to my Opti-Build Program.
To take advantage of this offer, simply join SFI (free) via this link as one of my "Personally Sponsored Affiliates" (PSAs) and follow the steps I outline in the video below:
Video: How I Use Opti-Build To Help My SFI PSAs Build Their Teams
How It Works
When you join SFI you will be invited to progress through four levels of the "Starter Tier" to help you find your way around the business. Once you have got to level four things begin to get serious!
To progress to Level 5, the first level of the "Bronze Tier" you will need to generate $5 in sales revenue. As soon as you do that, I will add you to my Opti-Build program and you will start to receive fresh new SFI referrals into your downline. You will earn commissions on their activity and, depending on your level, on the activity of their referrals throughout several generations of your downline.
You can generate $5 in sales either through customers who you refer, or by making a purchase of your own.
In the beginning, if you are like most new affiliates, you won't have an instant customer base so it makes sense to invest in building your business by making a purchase of your own. That's why I recommend that my team members invest in a pack of 10 T-Credits, a $5.90 purchase, to get started.
What Are SFI T-Credits?
T-Credits are an internal currency for the SFI family of sites known as the Zing Network. You can use T-Credits to take part in Eager Zebra games as well as in Pricebender Auctions and Astro Auctions and also to buy a wide variety of goods from the Tripleclicks online marketplace.
Once SFI members start using T-Credits they tend to become much more engaged members of the business and also set a good example to new members of their team. Whenever your team members buy T-Credits you will earn a nice commission on the purchase.
People love playing games and bidding on auctions, which makes repeat sales of T-Credits very likely.
Well, no matter how you achieve your first $5 worth of sales, once I see that you, as one of my PSAs, are seriously engaged with the SFI affiliate program, I will add you to my Opti-Build Program to help you build a team of first level affiliates to duplicate my success with SFI – and more!
Sound good? Click this link to get started with SFI (free) today!
All the best,
David Hurley
SFI Affiliate since 2007
#InspiredFocus