How To Post Free Classified Ads Online & Promote SFI For No Cost
This is the first of a training series for SFI affiliates who want to learn how to promote SFI for no cost using free online ad sites. In the video I show you how to post free classified ads online using SFI's text ads and gateway page.
In the video you will learn:
1. How to find free classified ads sites.
2. How to set up a text ad on a classified ad site using SFI's text ads. In the video I use SalesSpider.com as an example of a classified ads site. However, the process of signing up and posting ads is pretty similar across thousands of other classified ads sites.
3. How to add an SFI Key Code to your affiliate link so you know where your referral signed up from.
4. Use a tracking service to add an extra layer of track-able data.
This video is about how to post free classified ads online to promote your SFI business for no cost. (My next video will show you how run a 100% FREE online banner ad campaign…)
How To Post Free Classified Ads Online
Hello folks, this is David Hurley of Top5Programs.com. (Check out my Top 5 Programs list.)
One of my "Top 5 Programs" is SFI. Today I want to show you how you can run a completely free advertising campaign to promote your SFI business using only the banner ads, text ads and gateway sites that are listed in your SFI back office. You'll learn how to use free online advertising sites to promote your SFI business.
I'm going to assume that you have no prior experience of running an SFI free advertising campaign. I will take you through the whole process of how to post free classified ads online.
I will start with how to search for and find suitable places to advertise.
Start With A Google Search
So the place to start is perhaps no big surprise! It's Google.com.
We come over to Google and enter a likely keyword phrase in Google's search box. I entered "free classified ad site." I ran the search and scrolled through until I found something that interested me. In the video, after running the search, I selected a site that offered a list of 30 free advertising sites.
I chose one of the sites on the list, SalesSpider.com. SalesSpider will serve as my example for the rest of this training.
The first thing to do is to sign up as a free member. That is simply a matter of clicking the free sign up button and filling in an online form. Click the confirmation link in the email the site sends to your inbox, and you're done!
Once you've signed up, log in to your account and find the "post a classified ad" section where you can post a free ad.
Setting Up Your SFI Classified Ad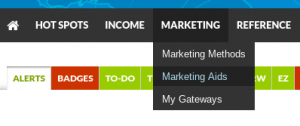 As SalesSpider is a classified ads site you will need to use one of SFI's text ads. Log in to your SFI back office and click on Marketing – Marketing Aids.
Select "SFI" as the "Program" and select "Text Ad" as the "Type" of ad you are searching for. A bunch of text ads will appear. Select one of them, click "Preview." Copy and paste it into the classified ad field on SalesSpider.com.
Use the first sentence of the text ad as the title, and change the first letter of each word uppercase.
Go to your list of SFI gateway pages and select the "FREE" gateway (make sure the link is https and not just http – you can copy the link directly from the browser URL field). Paste the link into the "Website Address" field of the SalesSpider classified ad.
Key Code Tracking
Next, add an SFI keycode to the URL. A keycode will follow any referral who signs up via your classified ad. That way you will be able to see if your classified ad is effective or not.
My SFI URL without a keycode: https://www.sfi4.com/9613031/FREE
My SFI URL with a keycode added: https://www.sfi4.com/9613031.61855/FREE
.61855 is my keycode for the free ad campaign. You can use a different keycode for each ad you place, or use a generic keycode to cover the whole campaign.
More Advanced Tracking
If you want to take your tracking to a higher level, invest in LeadsLeap and turn your SFI link into a tracking link.
A tracking link will track how many views and clicks the ads you post on each site are getting.
That will show you which classified ad sites are delivering the best results. Those are the sites that you will want to post more ads on. Using a tracking service will help you improve your results over time.
Conclusion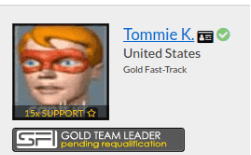 Now you know how to post free classified ads online, it's time to take action. Tommie K, SFI's Gold Team Leader who built his SFI business by posting free ads, advises that you post ads on multiple sites every day.
If you invest in the LeadsLeap tracking service, you will be able to see which of those free classified ad sites are worth working with.
Keep on posting ads on more and more sites, filter out the ineffective ones and pretty soon you will have a stream of traffic and sign ups for your SFI business.
In my next training video I will show you how to post free banner ads online.
Resources
Join my SFI Team
Search for "free classified ads" on https://google.com or https://bing.com
Post a free classified ad on SaleSpider.com
Track your ads with LeadsLeap.com
* * *
David Hurley
#InspiredFocus