SFI Now Offers Bitcoin Commission Payments
On 22nd April 2021 news broke that SFI affiliates can now receive their commission payments in Bitcoin. Here's how the announcement appeared on the SFI website: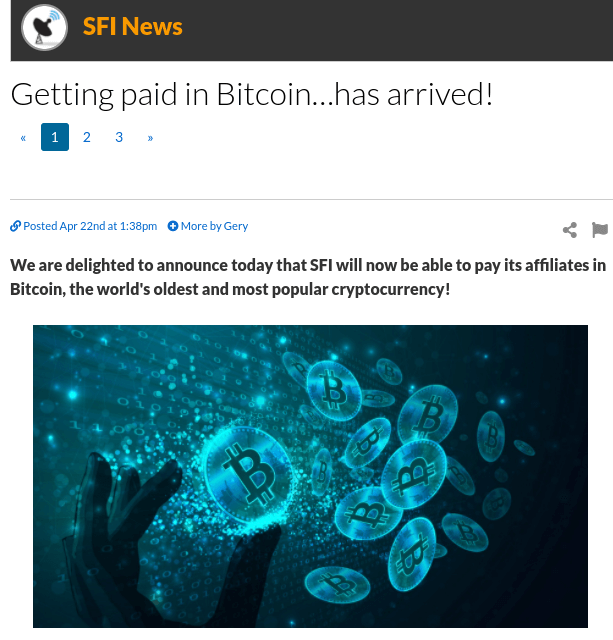 SFI already accepts Bitcoin payments on its Tripleclicks website through Bitpay. Now SFI has gone one step further. In doing so SFI has opened up the full potential of its business model to hundreds of thousands of its affiliates all over the world. Many of SFI's loyal affiliates do not have easy access to SFI's other payment options such as Paypal, credit cards, or USA bank cheques.
By offering commission payments in Bitcoin SFI can pay almost anyone, anywhere, inexpensively, securely, and fast. All an affiliate needs to receive payments in Bitcoin is a Bitcoin "wallet" and a verified account with BitPay.com.
Use SFI TO Dollar Cost Average Your Way Into Bitcoin!
This new development gives SFI affiliates an excellent opportunity to grow their Bitcoin month by month. First set up an account on Bitpay.com through SFI. When the account has been verified you will be invited to enter your Bitcoin wallet address. Next, select "Paid to Bitcoin Wallet" as your commission payment option in your SFI back office. Then your monthly commissions will be sent to your Bitcoin wallet every month.
That way, you will be able to grow your Bitcoin account month by month. In effect you will be "dollar cost averaging" your way into Bitcoin through your SFI commissions.
Convert Your Rewardical Tokens To Bitcoin Too!
More good news!
SFI will soon restore the option to convert your Rewardical tokens into Bitcoin as well.
Back in 2019 when I started accumulating small amounts of Bitcoin I was able to speed up the growth of my account by converting Rewardicals into Bitcoin. SFI withdrew that option for a while to create a more robust system through their relationship with Bitpay.com.
Now they are ready to offer "Rewardicals for Bitcoin" again, giving their affiliates another way to grow their Bitcoin.
These are just two of several positive developments that SFI have made in 2021. I look forward to even more good things from SFI during the rest of the year and beyond as I celebrate 14 years as an SFI affiliate!

Not yet in SFI! Come on in and join my SFI team!
All the best!
David Hurley
#InspiredFocus