SFI Release New Eager Zebra Brain Sprint Game – My Live Video Demo (Fail! LOL!)
This week SFI released a fun new Eager Zebra Game on their Tripleclicks platform called Brain Sprint.
Brain Sprint is a trivia general knowledge game with a twist. You're racing against the clock to try to answer 12 trivia questions as quickly as possible.
How Brain Sprint Works
The clock starts as soon as you begin a new Brain Sprint game. You are shown a trivia question with four multiple choice answers. You must click on the correct answer as quickly as possible.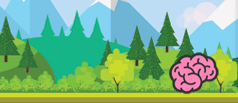 If you click on the right answer, a little jumping brain moves up the track at the bottom of the screen. If you answer very quickly, you win bonus points.
Answer all 12 questions correctly and you will win. The KEY to the game is not only to get the answers right, but to do so as quickly as possible. That's how you can get to the top of the Brain Sprint rankings and – once it's out of beta – win some prizes!
Brain Sprint – The Live Action Video (LOL!)
Brain Sprint is a lot of fun to play, so I thought I'd make a video of me playing the game so you can see what it's all about.

However, as you can see in the video, I'm not a trivia buff!
Also, I forgot to use the "50/50" button. The 50/50 button is free to use. It removes two of the wrong answers, reducing the odds of choosing the right one to 50/50. You can use it up to three times in a game.
If you get the answer wrong, you can spend a TCredit to get a new question with no penalty. No penalty, except that you're losing time when you do that, but it keeps you in the game. You can do that up to five times in a game. And you can play up to ten times a day.
Brain Sprint is free to play. The only cost is if you use TCredits. TCredits are SFI's internal currency.
Brain Sprint Prizes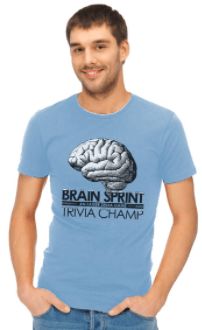 From next week, Brain Sprint will be out of beta testing. Then, if you complete a "Super Sprint," you'll get a free entry in the Daily Crown prize draw for a chance to win up to 1000 Rewardicals – which you can redeem for TCredits and more.
Also, any time you spend a TCredit on the Brain Sprint game, you will earn 10 Rewardicals. (Rewardicals are reward tokens that you can redeem for TCredits, Gift Certificates, Bitcoin, silver bullion and more.)
If you are one of the top ten Brain Sprint players in any month, you'll win a Brain Sprint Champion t-shirt. You can win up to two t-shirts per year.
What Does Brain Sprint Have To Do With Making Money Online?
Lots, actually!
Online gaming is very popular. A study by Spil Games back in 2013 found that over 700 million people who go online played online games.
That's 44% of Internet surfers play online games. 46% of women and 54% of men who go online play online games. In Turkey, the percentage of online gamers was as high as 70% in 2013.
Gaming is BIG!
And Eager Zebra games such as Brain Sprint give SFI affiliates an easy way to tap into that market.
To make it even easier for you, you'll be able to set up your own Brain Sprint league and challenge your friends to compete against you.
So, forget about the hassle of "selling" or "referring." Simply challenge people in your networks to join your Brain Sprint league and see if they are better at trivia than you are!
You'll find that having fun and making money go together!

David Hurley
#InspiredFocus